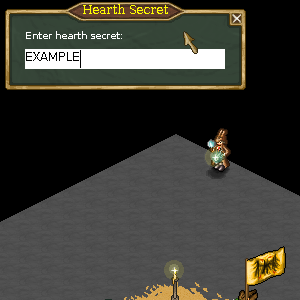 A Hearth Secret (or HS) is something used by other players to: see your name, have you on their Kin List, and travel to your hearth fire upon character creation.
Telling your secret
Edit
It is recommended, to not tell your Hearth Secret to anyone publicly, try to disclose this in private, and only if you trust the person you are telling it to.
Only set your Hearth Secret when
Edit
You have a friend that's coming to join you.
Adding a friend or someone as kin.
HS-Loobk
Hearth Secret Stairs
Edit
If you make a new character and input an already used hearth secret a set of stairs will open up allowing you to start near them.
Ad blocker interference detected!
Wikia is a free-to-use site that makes money from advertising. We have a modified experience for viewers using ad blockers

Wikia is not accessible if you've made further modifications. Remove the custom ad blocker rule(s) and the page will load as expected.